You can support the Women's Business Council - Southwest this holiday season while shopping through the AmazonSmile program! Click here for more info.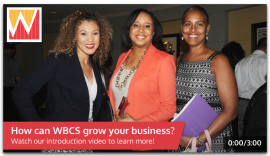 Since the beginning, WBCS has been committed to facilitating and strengthening business opportunities between women-owned businesses, corporate America and the government.
Now you can support the Women's Business Council - Southwest while shopping on Amazon! Whether you are shopping with a business account for office supplies or your personal account for household goods, almost all purchases can help raise money to support the mission of WBCS.
Join us as we learn from fellow WBE and CEO of Empowering a Billion Women, Ingrid Vanderveldt! She will share the "Secret Sauce" of gaining global business success as women leaders and entrepreneurs. 
Bring business to your door with National Certification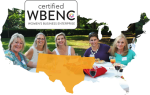 WBCS administers Women's Business Enterprise certification through the Women's Business Enterprise National Council (WBENC),
the most widely recognized and respected women's certification in the United States.
WBCS assists corporations with procurement and supplier diversity initiatives by validating that an organization, or supplier, is owned, operated, and controlled by at least 51% women.
View an informational overview on Women's Business Enterprise (WBE) national certification at any time from your own computer. This brief, recorded webinar will walk you through the benefits of certification and how to get started in the process. You'll also learn about the educational and networking opportunities available from the Women's Business Council — Southwest.
There's always something happening at our Upcoming Events
Stay up to date with WBCS's latest News & Articles
The Women's Business Council – Southwest works hard to provide valuable programming to connect our women-owned businesses with opportunities to grow their businesses. This is something we can't do without the support of our sponsors. Over the next few months, we will highlight our Champion Circle Gold Sponsors, and bring you some information about their supplier diversity programs.
Help us support our community and regional partners - check out these upcoming events for women business owners and entrepreneurs within the WBCS Region.
Last month for our September Women Owned Wednesday event, we met with Dr. Cheryl Carr, also known as the Work Doctor™. Dr. Carr is a positive applied, industrial organizational psychologist who observes, analyzes, and interprets human behavior in professional environments using a variety of quantitative and qualitative methods to study individual and group performance, satisfaction, safety, health and well-being.
Thank you to our 2021 Champion Circle Sponsors! These Corporate and WBE Members have stepped up their support for our 2021 programming and events!