Last week, almost 100 WBE and Sustaining members, community partners, and the Women's Business Council- Southwest's Board of Directors, joined together at Canyon View Event Center for Austin Insights. This year's event featured a keynote speech by Stephanie Breedlove, co-founder of Care.com HomePay, the nations largest household payroll and tax firm.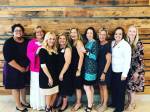 The program began with welcome remarks by WBCS President, Debbie Hurst and Title Sponsors, Hanger and Software Professionals Inc. Stephanie dove right into her keynote speech, which highlighted her journey from a career in corporate America to boot-strapping a business from her basement to the company being acquired for over $55 million. Throughout her presentation, Stephanie shared many pieces of wisdom with the audience. Some advice included, not to be afraid of "bring ya to your knees" work, remember that every company is a technology company- highly consider investing in the best technology for your clients, Care.com HomePay's "secret sauce" is their excellent customer service paired with state-of-art technology- find your secret sauce! 
After the presentation, attendees networked and enjoyed cocktails provided by WBE, Austin Cocktails. All attendees received a copy of Stephanie's book, All In: How Women Entrepreneurs Can Think Bigger, Build Sustainable Businesses, and Change the World.