Whether you call it random acts of kindness, paying it forward, or good deeds, they are mighty. The ladies of the Women's Business Council – Southwest (WBCS) understand the importance of helping each other. At our annual Ladies Who Launch event a few years ago, Stephanie Point, Founder & CEO of Point 2 Point Global Security, Inc. was inspired to help fellow WBE, Psyche Terry, Founder & Chief Inspiration Officer of UI Global Brands LLC , by paying for her entrance fee to the Women's Business Enterprise National Council (WBENC) National Conference . "I listened to Psyche's story, via the phone,

Learn how purpose-driven leaders make culture a priority in their organizations, how to launch your company's purpose in the marketplace based on your culture and how to grow fully as a compassionate, effective leader through culture-driven best practices.
Women Business Owners
Learn how Women's Business Enterprise national certification can help you grow your business.
Bring business to your door with National Certification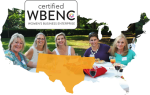 WBCS administers Women's Business Enterprise certification through the Women's Business Enterprise National Council (WBENC),
the most widely recognized and respected women's certification in the United States.
WBCS assists corporations with procurement and supplier diversity initiatives by validating that an organization, or supplier, is owned, operated, and controlled by at least 51% women.
You're in great company among our 2017 Corporate Champion award winners
View an informational overview on Women's Business Enterprise (WBE) national certification at any time from your own computer. This brief, recorded webinar will walk you through the benefits of certification and how to get started in the process. You'll also learn about the educational and networking opportunities available from the Women's Business Council — Southwest.
"The best business decision that I ever made was joining WBCS. My company has grown because of my WBENC certification and the wonderful networking and educational programs that the WBCS provides to women business owners."
There's always something happening at our Upcoming Events
Don't miss this panel of certified Women Business Enterprises and supplier diversity professionals discussing how to maximize WBE certification. Each member of the panel has successfully leveraged certification to build relationships and partnerships, and increase their business opportunities.
Join us for Executive Insights featuring keynote speaker, Jeff Davis, EVP & Chief Financial Officer of JCPenney.
You don't want to miss this exciting and impactful event. 
Do decision makers focus on your personal style? You better believe it! You may have the best concept or idea, but if you can't stand up, deliver it and instill confidence that you can get the job done, then no one will buy; no one will follow!