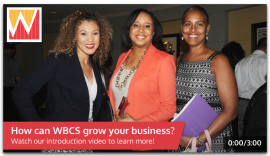 Since the beginning, WBCS has been committed to facilitating and strengthening business opportunities between women-owned businesses, corporate America and the government.
At the end of the year, Debbie Hurst, WBCS President & CEO will retire after 24 years leading the Council. We wish her all the best and are thankful for her outstanding leadership over her tenure. We have now begun the search for a President & CEO in partnership with WBE McKinley Marketing Partners. The President & CEO position manages and directs all operations, functions, and staff of the organization. Responsible for strategic planning and fulfillment of organization goals, public relations and marketing, all programs, corporate member recruitment, business development and fund-raising
This virtual mixer is a free-to-attend, come-and-go, open networking format. Attendees will be broken out into multiple rounds of small groups for networking. It's a time to build relationships with fellow women-owned businesses in the architecture, construction, and engineering industries.  
Bring business to your door with National Certification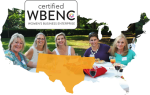 WBCS administers Women's Business Enterprise certification through the Women's Business Enterprise National Council (WBENC),
the most widely recognized and respected women's certification in the United States.
WBCS assists corporations with procurement and supplier diversity initiatives by validating that an organization, or supplier, is owned, operated, and controlled by at least 51% women.
View an informational overview on Women's Business Enterprise (WBE) national certification at any time from your own computer. This brief, recorded webinar will walk you through the benefits of certification and how to get started in the process. You'll also learn about the educational and networking opportunities available from the Women's Business Council — Southwest.
There's always something happening at our Upcoming Events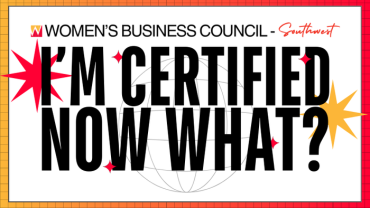 You have your WBE certification, but what happens next? Join our monthly live webinar to learn how to put your certification to work! This is ideal for WBEs certified in the last year.
In this session, we will talk about the hot water and the overwhelming goodness that having grit can bring to any hustling and bustling entrepreneur.  
Join us as we learn from fellow WBE, Tanis Cornell, who will impart critical information that ensures your entrepreneurial venture starts off on the right path and continues to grow successfully.  
Stay up to date with WBCS's latest News & Articles
The Women's Business Council – Southwest works hard to provide valuable programming to connect our women-owned businesses with opportunities to grow their businesses. This is something we can't do without the support of our sponsors. Over the next few months, we will highlight our Champion Circle Platinum Sponsors, and bring you some information about their supplier diversity programs.
Help us support our community and regional partners - check out these upcoming events for women business owners and entrepreneurs within the WBCS Region.
Help us support our community and regional partners - check out these upcoming events for women business owners and entrepreneurs within the WBCS Region.
"The best business decision that I ever made was joining WBCS. My company has grown because of my WBENC certification and the wonderful networking and educational programs that the WBCS provides to women business owners."
Thank you to our 2021 Champion Circle Sponsors! These Corporate and WBE Members have stepped up their support for our 2021 programming and events!