During the coronavirus (COVID-19) pandemic, we will be compiling resources that can help our women-owned businesses.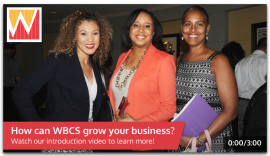 Since the beginning, WBCS has been committed to facilitating and strengthening business opportunities between women-owned businesses, corporate America and the government.
Questions about Lillie Knox? We have answers!
Connections to Contracts is a procurement-focused event from September 10-11 connecting women-owned businesses with corporations and each other. This virtual offering features a welcome reception, corporate "roundtable" procurement discussions, a c-suite executive keynote address, "prime time" sessions led by corporate members and their Tier 1 suppliers, exhibitor booths featuring select sponsors, small group networking, and one-on-one networking.
Bring business to your door with National Certification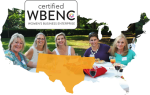 WBCS administers Women's Business Enterprise certification through the Women's Business Enterprise National Council (WBENC),
the most widely recognized and respected women's certification in the United States.
WBCS assists corporations with procurement and supplier diversity initiatives by validating that an organization, or supplier, is owned, operated, and controlled by at least 51% women.
View an informational overview on Women's Business Enterprise (WBE) national certification at any time from your own computer. This brief, recorded webinar will walk you through the benefits of certification and how to get started in the process. You'll also learn about the educational and networking opportunities available from the Women's Business Council — Southwest.
There's always something happening at our Upcoming Events
Stay up to date with WBCS's latest News & Articles
Help us support our community and regional partners - check out these upcoming events for women business owners and entrepreneurs within the WBCS Region.
Each year the Women's Business Council – Southwest gives away cash awards of up to $20,000 via the Lillie Knox Investment Awards to support the business growth of WBEs within our region. Read below for some tips on how to make your application is complete and stands out this year:
Questions about Lillie Knox? We have answers!