During the coronavirus (COVID-19) pandemic, we will be compiling resources that can help our women-owned businesses. 
In summer 2020, the certification process for Women-Owned Small Businesses (WOSBs) and Economically Disadvantaged WOSBs (EDWOSBs) will change as put forth by Congress in the 2015 National Defense Authorization Act (NDAA).

You have your WBE certification, but what happens next? Join our monthly live webinar to learn how to put your certification to work! This is ideal for WBEs certified in the last year.
Women Business Owners
Learn how Women's Business Enterprise national certification can help you grow your business.
Bring business to your door with National Certification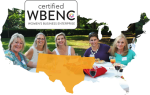 WBCS administers Women's Business Enterprise certification through the Women's Business Enterprise National Council (WBENC),
the most widely recognized and respected women's certification in the United States.
WBCS assists corporations with procurement and supplier diversity initiatives by validating that an organization, or supplier, is owned, operated, and controlled by at least 51% women.
View an informational overview on Women's Business Enterprise (WBE) national certification at any time from your own computer. This brief, recorded webinar will walk you through the benefits of certification and how to get started in the process. You'll also learn about the educational and networking opportunities available from the Women's Business Council — Southwest.
"The best business decision that I ever made was joining WBCS. My company has grown because of my WBENC certification and the wonderful networking and educational programs that the WBCS provides to women business owners."
There's always something happening at our Upcoming Events
Today's current climate has forced most of us to work remotely. However, it can be challenging to know how to be productive and stay engaged at home. Learn practical tips to achieve success, tools to work remotely with a team, and best practices for managing a remote team.
With the recent recommendations from the CDC concerning coronavirus (COVID-19), Connections to Contracts has been postponed until a later date in 2020. Click here to read the current status of our event schedule. 
Learn how to get your customers to buy again, repeatedly, as well as how to get your best customers to bring business to you. Discover how to turn your customers into a force of motivated, passionate sales people.