Each year, WBENC presents 14 women business owners with the prestigious Women's Business Enterprise (WBE) Star Award. Congratulations to Betty Manetta for being recognized!

This outreach event caters specifically to women of color business owners and their staff who are interested in doing business with corporations and/or government entities. It's a time to build relationships with fellow women business owners and learn about the benefits of Women's Business Enterprise (WBE) certification.
Women Business Owners
Learn how Women's Business Enterprise national certification can help you grow your business.
Bring business to your door with National Certification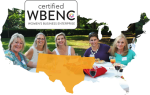 WBCS administers Women's Business Enterprise certification through the Women's Business Enterprise National Council (WBENC),
the most widely recognized and respected women's certification in the United States.
WBCS assists corporations with procurement and supplier diversity initiatives by validating that an organization, or supplier, is owned, operated, and controlled by at least 51% women.
View an informational overview on Women's Business Enterprise (WBE) national certification at any time from your own computer. This brief, recorded webinar will walk you through the benefits of certification and how to get started in the process. You'll also learn about the educational and networking opportunities available from the Women's Business Council — Southwest.
"The best business decision that I ever made was joining WBCS. My company has grown because of my WBENC certification and the wonderful networking and educational programs that the WBCS provides to women business owners."
There's always something happening at our Upcoming Events
Woman Entrepreneur's Exchange is a bi-annual event featuring a Sustaining (Corporate) Member supplier diversity spotlight, speed-networking with Women's Business Enterprise (WBE) mentors, and a networking reception.
This outreach event caters specifically to women of color business owners and their staff who are interested in doing business with corporations and/or government entities. It's a time to build relationships with fellow women business owners and learn about the benefits of Women's Business
Increase awareness of common perceptions of women in a work environment, specifically the eight political pitfalls. By avoiding these missteps, women can maintain their credibility and increase influence with their male counterparts so they are more successful in collaboration, negotiation, and