Views reference

Join the WBCS President, Bliss Coulter, fellow women-owned businesses, supplier diversity advocates, and community partners to develop professional relationships over coffee and recognize members who have joined in the last quarter.
 
Views reference

Join us for a live webinar with WBCS, DFW MSDC, and NCTRCA to learn about Women's Business Enterprise (WBE), Minority Business Enterprise (MBE), and more certifications.

Join fellow women-owned businesses and supplier diversity advocates for open networking.

You have your WBE certification, but what happens next? Join our monthly live info session to learn how to put your certification to work! This is ideal for WBEs certified in the last year.
Lillie Knox Investment Award
The Lillie Knox Investment Award is a cash prize of up to $20,000, exclusively available to WBCS Women's Business Enterprises, to help further business growth. Current members, in good standing, are welcome to apply annually for consideration.
Exciting Sponsorship Opportunities
Take advantage of the opportunity to support WBCS, while obtaining valuable recognition for your organization.
Sponsorships are available exclusively to our members. With the help of our sponsors, WBCS will continue to host the events and programs that give our members the chance to grow their businesses.  
To become a WBCS sponsor, please complete the worksheet below and send it to Lindsay Pittard, Executive Director of Programs. The worksheet will be updated in real time to update availability.
Download Sponsorship Catalog
Apply for Sponsorship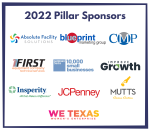 Thank you to our 2022 Pillar Sponsors! These WBE and Corporate members have chosen to support our programming in the areas of Mentoring and Outreach, Capacity Building and/or Procurement.