Each year, WBENC presents 14 women business owners with the prestigious Women's Business Enterprise (WBE) Star Award. Congratulations to Betty Manetta for being recognized!

This outreach event caters specifically to women of color business owners and their staff who are interested in doing business with corporations and/or government entities. It's a time to build relationships with fellow women business owners and learn about the benefits of Women's Business Enterprise (WBE) certification.
Women Business Owners
Learn how Women's Business Enterprise national certification can help you grow your business.
Bring business to your door with National Certification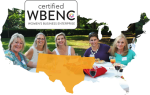 WBCS administers Women's Business Enterprise certification through the Women's Business Enterprise National Council (WBENC),
the most widely recognized and respected women's certification in the United States.
WBCS assists corporations with procurement and supplier diversity initiatives by validating that an organization, or supplier, is owned, operated, and controlled by at least 51% women.
View an informational overview on Women's Business Enterprise (WBE) national certification at any time from your own computer. This brief, recorded webinar will walk you through the benefits of certification and how to get started in the process. You'll also learn about the educational and networking opportunities available from the Women's Business Council — Southwest.
"WBCS is a great marketing and networking venue that helped maximize my business' visibility and develop reliable relationships with sustaining members and other WBEs."
There's always something happening at our Upcoming Events
Meet the WBCS staff and tour the office headquarters. Enjoy an open bar, complimentary appetizers, and networking. Learn 2019 organizational insights and performance from WBCS President, Debbie Hurst. Welcome the newly elected 2020 WBCS Board of Directors.
You have your WBE certification, but what happens next? Join our monthly live webinar to learn how to put your certification to work! This is ideal for WBEs certified in the last year.
Trade Talk: Technology
Trade Talk is a quarterly industry-focused event, featuring open networking and Sustaining (Corporate) Member remarks on industry trends and their supplier diversity initiatives.