Cindy Kerr, Executive Vice President/Coo of Switchplace shared how the Toyota Financial Mentorship Program has helped her develop her business skillset. Since, January 2018, Cindy has learned the skills and confidence to gain valuable business relationships. "The program has allowed me to learn more about business growth and to be resilient. I have been provided feedback that will help drive my performance to grow my business." Cindy learned about the program through the Women's Business Council - Southwest. "I wanted to apply immediately because it seemed like a great program to gain business

Join us for a half-day conference focused on top-tier educational programming. Harvesting Partnerships begins with a keynote luncheon and the Lillie Knox Investment Award presentation. The afternoon is dedicated to Women's Business Enterprise led roundtable discussions on business themes.
Women Business Owners
Learn how Women's Business Enterprise national certification can help you grow your business.
Bring business to your door with National Certification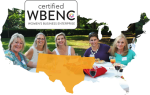 WBCS administers Women's Business Enterprise certification through the Women's Business Enterprise National Council (WBENC),
the most widely recognized and respected women's certification in the United States.
WBCS assists corporations with procurement and supplier diversity initiatives by validating that an organization, or supplier, is owned, operated, and controlled by at least 51% women.
You're in great company among our 2017 Corporate Champion award winners
View an informational overview on Women's Business Enterprise (WBE) national certification at any time from your own computer. This brief, recorded webinar will walk you through the benefits of certification and how to get started in the process. You'll also learn about the educational and networking opportunities available from the Women's Business Council — Southwest.
"WBCS is a great marketing and networking venue that helped maximize my business' visibility and develop reliable relationships with sustaining members and other WBEs."
There's always something happening at our Upcoming Events
I'm Certified, Now What?
You have your WBE certification, but what happens next? Join our monthly live webinar to learn how to put your certification to work!
WHEN 9:00 AM - 10:00 AM
Woman Entrepreneur's Exchange
Woman Entrepreneur's Exchange is a bi-annual event featuring a Sustaining (Corporate) Member supplier diversity spotlight, speed-networking with Women's Business Enterprise (WBE) mentors, and a networking reception.
Parade of Stars Awards Gala
The Parade of Stars Awards Gala is an illuminating semiformal evening event honoring Women's Business Enterprises and Sustaining (Corporate) Members who go above and beyond to ensure the successes of women-owned businesses. The event features a cocktail reception, seated dinner, awards ceremony, and