"Working with other WBEs, both as partners and clients, has enabled me to add another stream of revenue to my business. The opportunities are tremendous and continue to grow. It's such a great way to step out of your comfort zone and add an entirely new group to your network." Darlene Templeton is the President & CEO of Templeton & Associates , based in Austin, TX. She is a professional speaker, executive coach, author, business strategist, trainer, and author. Darlene's passion for connecting women led her to create the Amazing Woman Leaders program and Amazing Woman Alliance where high

Join us for Business Works Expo, featuring one-on-one matchmaker meetings, WBE Speed Connect, keynote lunch with Spend Awards presentation, half day trade expo (with WBE and corporate exhibitors), silent auction and networking reception. You don't want to miss this exciting and impactful event. 
Women Business Owners
Learn how Women's Business Enterprise national certification can help you grow your business.
Bring business to your door with National Certification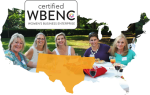 WBCS administers Women's Business Enterprise certification through the Women's Business Enterprise National Council (WBENC),
the most widely recognized and respected women's certification in the United States.
WBCS assists corporations with procurement and supplier diversity initiatives by validating that an organization, or supplier, is owned, operated, and controlled by at least 51% women.
You're in great company among our 2017 Corporate Champion award winners
View an informational overview on Women's Business Enterprise (WBE) national certification at any time from your own computer. This brief, recorded webinar will walk you through the benefits of certification and how to get started in the process. You'll also learn about the educational and networking opportunities available from the Women's Business Council — Southwest.
"WBCS is a great marketing and networking venue that helped maximize my business' visibility and develop reliable relationships with sustaining members and other WBEs."
There's always something happening at our Upcoming Events
Stephanie Breedlove and her husband founded Care.com HomePay as a professional young couple looking for a way to properly handle the "nanny tax". Unable to find a solution, they decided to build it themselves. With no entrepreneurial experience, the couple embarked on a journey, which led to Care
I'm Certified, Now What?
You have your WBE certification, but what happens next? Join our monthly live webinar to learn how to put your certification to work!
WHEN: 9:00 AM - 10:00 AM
Table Topics Luncheon