Thanks you for making our inaugural Connections to Contracts event a success! We were so excited to bring you this brand new event, and hope it was a day full of meaningful connections for all who attended. Please check back next week for a full recap and photos from the day. 
In the meantime - we want to hear your thoughts!
Please let us know what you loved, what was most beneficial, and what could be improved for next year.  If you haven't had a chance to share your experience with us, please do so via a brief survey. We value all feedback and appreciate your support of our events programs.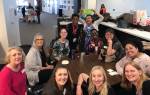 Thank you from the WBCS Staff!