The Women's Business Council – Southwest (WBCS) has been helping women-owned businesses grow since 1995.
Established in the heart of the Dallas/Fort Worth Metroplex, WBCS (formerly known as the North Texas Women's Business Council) was formed by a handful of passionate women business owners and procurement professionals. Since the beginning, WBCS has been committed to facilitating and strengthening business opportunities between women-owned businesses, corporate America and the government.
Click here for a letter from WBCS President & CEO Debbie Hurst reflecting on the last 25 years!
Thank you to our Signature Sponsors!


Thank you to all who voted in our 25th Anniversary commemorative t-shirt poll! We are excited to announce the winning design - "Lift as You Climb".
Help us celebrate our 25th Anniversary while showing your support for #womenowned businesses. The pre-order price for t-shirts is $25 each, or two for $40 (ends Friday, June 26, 2020). They will be available for pickup in late July at the WBCS office in Las Colinas, or shipped for a $7 fee. T-shirts are available navy soft-style fabric with white printed text, available in ladies and unisex sizes. 
Check out what's happening as we Celebrate 25 Years
This annual survey helps us helps us to measure our success and provides valuable insights as to who is spending with WBEs and promoting supplier diversity.
For the first time, the Women's Business Council - Southwest will be holding a virtual market with women-owned businesses on November 23rd through December 6th, 2020. Applications are due Monday, November 9th and participants will be notified by Friday, November 13, 2020.
Harvesting Partnerships Virtual will be held on November 5th, and registration is now open. We are excited to bring back one of the most popular features of this annual half-day conference – WBE-Led Roundtable Discussions.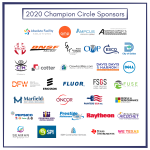 Introducing our 25th Anniversary Champion Circle Sponsors! Thank you to our WBCS members who have stepped-up their support in celebration of our 25th year.