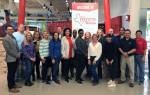 The Toyota Small and Diverse Mentorship Program is an opportunity for certified SBEs and WBEs to be matched with leaders from Toyota Financial Services to learn and grow their business through a formal year-long mentorship program. This year, the Women's Business Council - Southwest is excited to have six of our members participating: 
Donna Hegdahl, The TransSynergy Group
Andrea Tsakanikas, CrewFacilities.com
Chanel Christoff Davis, Davis, Davis & Harmon
Melinda Zito O'Brien, Energy Utility Group
Patricia Rodriguez Christian, Texas Standard Commercial Construction
Silvana Rosero, Laguna Media Group
As part of the program, 2019 participants recently visited the Toyota facility in San Antonio for an up-close look at Toyota's history, manufacturing process, and use of their Just-in-Time supply chain strategy.
WBCS WBE and board member Patricia Rodriguez Christian applied for the program as she felt it would be beneficial to learn Toyota's approach to building a business through collaboration, manufacturing excellence, and execution. In addition, she says the opportunity to learn alongside fellow WBEs is an invaluable resource. "WBEs in this year's program represent a wide variety of businesses in all sectors, and with very unique challenges," said Christian. Everyone's questions and comments are insightful and innovative, and help the entire cohort gain knowledge each time we are together with Toyota personnel."